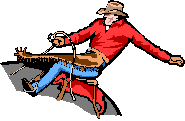 Competition for a position on the Junior Varsity and Varsity Cheerleading Squads were tough this year. We had a lot of talented Young Ladies and Gentlemen tryout for the 2005-2006 cheer season. Unfortunately we cannot keep everyone. I would like to say thank you to all that participated and to encourage you to continue to work on your Cheerleading skills if you were not selected for the 2005-2006 season.
Keep that RAIDER Spirit
A successful team beats with one Heartbeat; Team Work
All for one and one for all, Break a leg, OUCH!!!